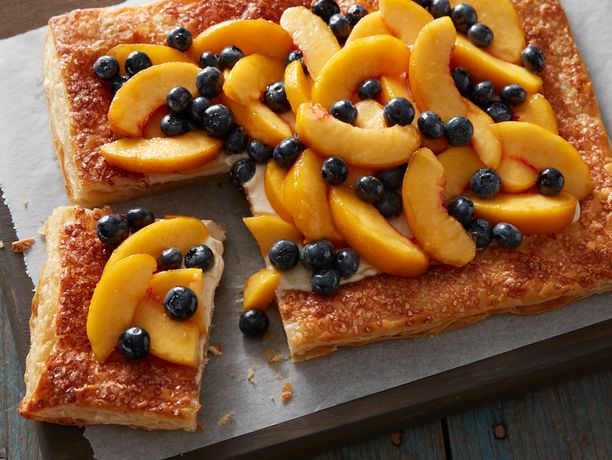 FRESH PEACH AND BLUEBERRY TART
45 min Prep
1 hr 50 min Total
Sweet peaches and blueberries top a flaky layer tart of homemade puff pastry.
---
Ingredient List
Tart

1 recipe Quick Puff Pastry Dough

1 egg

1 tablespoon milk

1 tablespoon coarse sparkling sugar
Filling

1 package (8 oz) cream cheese, softened

2 tablespoons granulated sugar

2 teaspoons grated lemon peel

1 teaspoon fresh lemon juice

1/2 teaspoon vanilla
Fruit Topping

2 cups sliced fresh peaches (2 to 3 medium)

1/2 cup fresh blueberries

1 tablespoon granulated sugar

1 teaspoon fresh lemon juice
Preparation
Heat oven to 425°F. Line rimmed cookie sheet with cooking parchment paper. Divide prepared puff pastry dough in half. Wrap one half of dough in plastic wrap; return to refrigerator to reserve for another use.
Using floured rolling pin, roll out other half of chilled dough on lightly floured surface to 10-inch by 12-inch rectangle. Trim sides with sharp knife or pizza cutter if needed to make straight edges. Roll up one side of dough onto rolling pin, and carefully place dough on cookie sheet. Using sharp knife, score dough to make 1 1/2-inch border. Prick dough inside border with fork. Refrigerate 10 minutes.
In small bowl, stir egg and milk until well blended. Brush dough with egg wash; sprinkle with sparkling sugar. Bake 20 to 25 minutes or until deep golden brown. Carefully slide tart off parchment paper to cooling rack; cool completely, about 30 minutes.
When ready to serve, in small bowl, beat Filling ingredients with spoon until smooth. Spread filling over crust within borders. In another small bowl, stir Fruit Topping ingredients until well coated. Layer sweetened fruit over cream cheese filling.
Tart is best eaten the same day. Cover and refrigerate any remaining tart.
Tips
To easily peel fresh peaches, blanch them in boiling water about 15 seconds. Remove them from water with a slotted spoon, and they'll be super easy to peel with a paring knife.
Serve with vanilla ice cream or sweetened whipped cream.