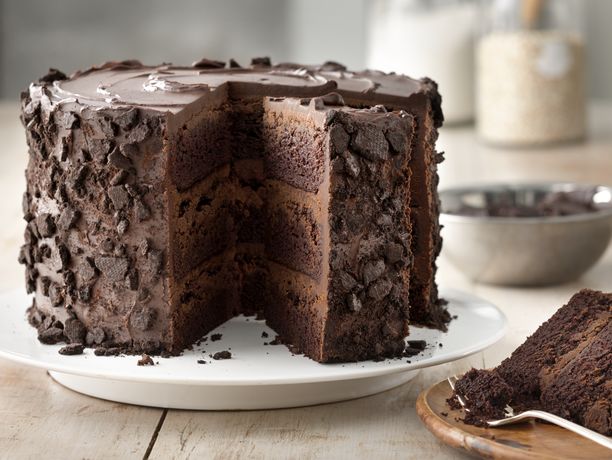 "ALL-THE-STOPS" CHOCOLATE CAKE
1 hr 10 min Prep
4 hr 0 min Total
Looking for a delicious dessert? Enjoy this rich chocolate cake coated with crunchy cookie crumbs – a delightful treat.
---
Ingredient List
Cake

2 cups strong coffee

2 cups butter

1 1/2 cups unsweetened baking cocoa (preferably Dutch processed)

4 cups all-purpose flour

2 cups granulated sugar

2 cups packed dark brown sugar

1 tablespoon baking soda

1 teaspoon salt

3 eggs

1 egg yolk

1 1/3 cups sour cream

2 teaspoons vanilla
Icing

32 oz semisweet or bittersweet baking chocolate, chopped

1 quart (4 cups) whipping (heavy) cream

2 tablespoons light corn syrup

2 teaspoons vanilla
Coating

40 thin chocolate wafer cookies, finely crushed (about 1 3/4 cups)
Preparation
Adjust oven racks to middle and bottom positions. Heat oven to 350°F. Spray three 9-inch round pans with cooking spray. Line bottom of pans with cooking parchment paper rounds; spray with cooking spray.
In 3-quart saucepan, heat coffee and butter over medium heat until butter melts and mixture just comes to a boil. Remove from heat and add cocoa. Beat with wire whisk until there are no lumps; set aside and cool 5 minutes.
In very large bowl, beat flour, granulated sugar, brown sugar, baking soda and salt with wire whisk. Pour coffee mixture over dry ingredients and stir just until no dry flour mixture is visible. In small bowl, beat eggs and egg yolk with wire whisk. Add to flour mixture, beating well. Stir in sour cream and 2 teaspoons vanilla until well mixed.
Pour batter into pans. (Batter will nearly reach tops of pans.) Carefully place pans in oven, 2 on bottom rack and 1 one on middle rack. Bake 45 to 50 minutes or until cake tester or toothpick inserted in center comes out clean and cake top is no longer wobbly. Cool on wire racks, about 10 minutes. Invert cake layers onto wire racks and remove parchment paper. Cool completely, about 1 hour. (Layers are easier to handle when cold, so you may want to wrap them in plastic wrap and refrigerate 8 to 12 hours before frosting.)
In large bowl, place chopped chocolate and set aside. In 4-quart saucepan, heat whipping cream and corn syrup to a simmer over medium heat. Remove from heat and add 2 teaspoons vanilla. Pour mixture over chocolate and cover bowl with plastic wrap; let stand 5 minutes. Remove plastic wrap and beat with wire whisk until chocolate is smooth. Cover bowl with plastic wrap and chill 30 minutes. Stir well and refrigerate 30 minutes longer. Continue to stir every 30 minutes until icing is spreadable, about 2 hours total.
Place about 2 tablespoons icing in center of serving plate or stemmed cake plate. (This will steady the cake as you ice it.)Place 1 layer on plate and spread approximately 1 1/2 cups icing to edge of layer. Top with another layer and spread 1 1/2 cups icing to edge. Top with last layer. Frost side and top with remaining icing. Smooth top and side of cake. Use hands to liberally press coating into side of cake. Repeat all around cake to cover side with coating, filling in any bare spots.
Tips
Why it Works: Reving Up Chocolate You can never have enough chocolate—in life or in a recipe! However, adding more chocolate to a recipe does not necessarily provide more chocolate flavor. The best way to increase chocolate flavor is to increase the other flavors present in chocolate. Chocolate contains subtle hints of coffee, vanilla, spice and even smoke. By adding elements of these flavors to your recipe, such as the coffee in this cake, you make it more "chocolaty." (To get a smoke flavor, one famous pastry maker has even served brownies with tobacco leaves—an ingredient that is definitely not recommended!)