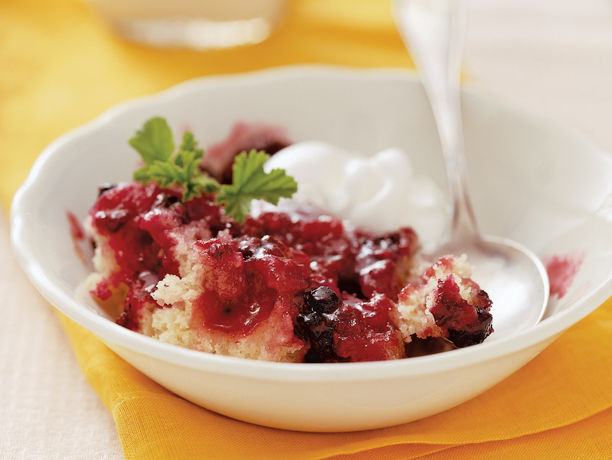 BERRY BEST UPSIDE-DOWN CAKE
15 min Prep
1 hr 5 min Total
Turn the flavor upside-down and use berries instead of pineapple in a classic dessert.
---
Ingredient List
1/3 cup butter or margarine

1/2 cup sugar

1 bag (12 oz) frozen mixed berries (blackberries, strawberries, blueberries and raspberries), thawed, drained

1 1/3 cups Gold Medal™ all-purpose flour

1 cup sugar

2/3 cup milk

1 teaspoon baking powder

1 teaspoon vanilla

1/2 teaspoon salt

1 egg
Preparation
Heat oven to 350°F. In 9-inch square pan or 10-inch ovenproof skillet, heat butter in oven about 2 minutes or until melted. Sprinkle 1/2 cup sugar evenly over melted butter. Spoon berries evenly over sugar mixture.
In medium bowl, beat remaining ingredients with electric mixer on low speed 30 seconds. Beat on medium speed 2 minutes, scraping bowl frequently. Pour batter over berries.
Bake about 50 minutes or until toothpick inserted in center comes out clean. Immediately place heatproof serving plate upside down over pan or skillet; turn plate and pan or skillet over. Leave pan over cake about 1 minute so sugar mixture can drizzle over cake; remove pan or skillet. Serve warm. Store cake loosely covered.
Tips
Sweetened whipped cream is a natural topper for this berry best cake.