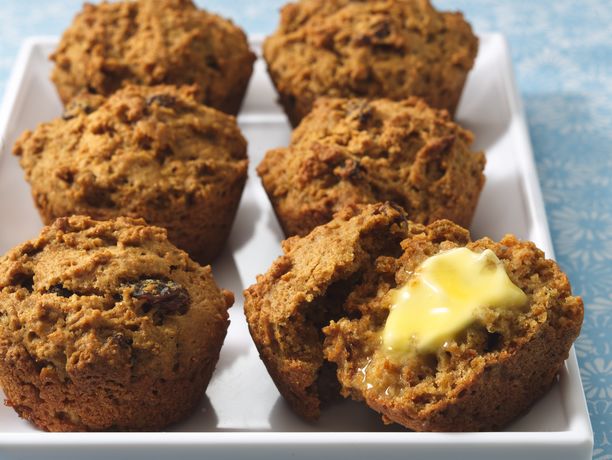 BUTTERMILK-RAISIN BRAN MUFFINS
Mmm! Warm homemade muffins! Feel good about these since they're made with Fiber One™ Raisin Bran Clusters™ cereal.
---
Ingredient List
2 cups Fiber One™ Raisin Bran Clusters® cereal

1 1/4 cups buttermilk

1/2 cup raisins

1 teaspoon vanilla

1/4 cup vegetable oil

1 egg

1 1/4 cups Gold Medal™ all-purpose flour

1/2 cup packed brown sugar

1 teaspoon baking soda

1/4 teaspoon salt

Butter or margarine, if desired
Preparation
Heat oven to 400°F. Grease bottoms only of 12 regular-size muffin cups with shortening, spray with cooking spray or line with paper baking cups. Lightly spray paper baking cups with cooking spray.
Place cereal in resealable food-storage plastic bag; seal bag and crush with rolling pin or meat mallet (or crush in food processor). In medium bowl, stir cereal, buttermilk, raisins and vanilla until well mixed. Beat in oil and egg with fork until blended.
In another medium bowl, stir remaining ingredients except butter until well mixed; stir into cereal mixture just until moistened. Divide batter evenly among muffin cups.
Bake 18 to 22 minutes or until toothpick inserted in center comes out clean. If baked in greased pan, let stand 5 minutes in pan, then remove from pan to cooling rack. If baked in paper baking cups, immediately remove from pan to cooling rack. Serve with butter.
Tips
Calcium, from dairy foods like milk, buttermilk and cheese, can help build bones. Look for low-fat or part-skim varieties of cheese when you can.