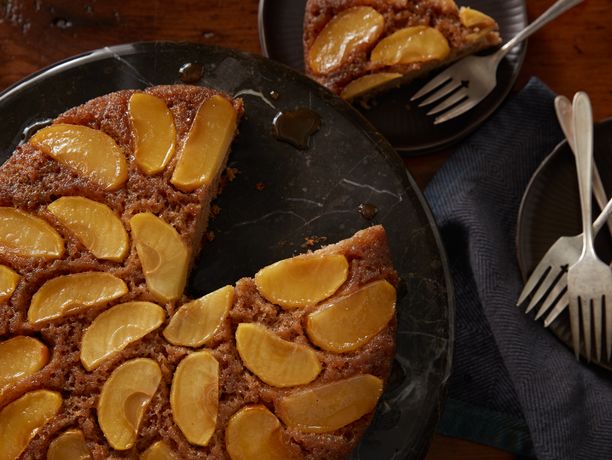 CARAMEL APPLE UPSIDE-DOWN CAKE
20 min Prep
1 hr 5 min Total
Upside-down cake gets a spicy, sweet makeover with fresh sliced apples and buttery caramel.
---
Ingredient List
Topping

3 tablespoons butter, melted

1/2 cup packed brown sugar

2 tablespoons water

2 medium apples, peeled, cut into 1/2-inch slices
Cake

1 cup Gold Medal™ all-purpose flour

1/2 teaspoon baking powder

1/2 teaspoon baking soda

1 teaspoon ground cinnamon

1/4 teaspoon ground ginger

1/4 teaspoon ground nutmeg

1/4 teaspoon salt

1/3 cup butter, softened

1/2 cup packed brown sugar

2 eggs

1/2 cup milk
Preparation
Heat oven to 350°F. Spray bottom and side of 9-inch round cake pan with cooking spray; line bottom with cooking parchment paper.
Pour 3 tablespoons melted butter in cake pan. Stir in 1/2 cup brown sugar and the water. Arrange apple slices over brown sugar mixture; set aside.
In small bowl, mix flour, baking powder, baking soda, cinnamon, ginger, nutmeg and salt; set aside. In large bowl, beat 1/3 cup softened butter and 1/2 cup brown sugar with electric mixer on medium speed, scraping bowl occasionally, about 1 minute or until fluffy. Beat in eggs, one at a time, until smooth. Gradually beat flour mixture into sugar mixture alternately with milk on low speed, beating after each addition, just until smooth. Scrape side of bowl occasionally. Spread batter over apple slices in pan. Tap pan on counter 2 to 3 times to eliminate air bubbles from batter.
Bake 32 to 38 minutes or until toothpick inserted in center comes out clean. Run knife around side of pan to loosen cake. Cool pan on cooling rack 5 minutes. Place heatproof serving plate upside down over pan; turn plate and pan over. Remove pan. Serve cake warm.
Tips
Granny Smith apples were used in this recipe -- choose your favorite baking apple, such as McIntosh, Braeburn or Jonathan.
Dress up your cake by sifting 2 tablespoons powdered sugar over top before serving.
Serve with sweetened whipped cream or vanilla ice cream to put this dessert over the top.