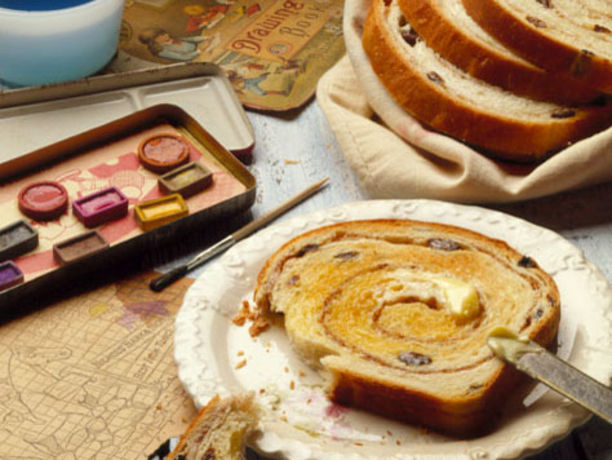 CINNAMON SWIRL RAISIN BREAD
35 min Prep
3 hr 10 min Total
Create two classic loaves of delicious homemade bread. Sugar, cinnamon and raisins are rolled in the dough to create the signature swirl.
---
Ingredient List
6 to 6 1/2 cups Gold Medal™ all-purpose flour

1/2 cup sugar

1 tablespoon salt

2 packages regular active or fast-acting yeast

2 cups water

1/4 cup vegetable oil

2 eggs

1 cup raisins

1 tablespoon vegetable oil

1/2 cup sugar

1 tablespoon ground cinnamon

Vegetable oil

1 tablespoon butter or margarine, softened
Preparation
In large bowl, mix 3 cups of the flour, 1/2 cup sugar, the salt and yeast. In 1-quart saucepan, heat water and oil until very warm (120°F to 130°F); stir into flour mixture. Stir in eggs; beat until smooth. Stir in enough remaining flour to make dough easy to handle.
Place dough on lightly floured surface; gently roll in flour to coat. Knead 8 to 10 minutes or until smooth and springy. Grease large bowl with shortening or cooking spray. Place dough in bowl, turning dough to grease all sides. (If desired, at this point, dough can be refrigerated up to 4 days.) Cover; let rise in warm place about 1 hour or until dough has doubled in size. (If using fast-acting yeast, do not let rise 1 hour; cover and let rest on floured surface 10 minutes.)
Grease 2 (9x5-inch) loaf pans with shortening or cooking spray. Gently push fist into dough to deflate; divide in half. Knead 1/2 cup of the raisins into each half. Roll each half into 18x9-inch rectangle. Brush 1 tablespoon oil over rectangles.
In small bowl, mix 1/2 cup sugar and the cinnamon; sprinkle each rectangle with half of sugar-cinnamon mixture. Beginning at 9-inch side, roll up each rectangle. Pinch edge of dough into roll to seal. Press each end with side of hand to seal; fold ends under loaf. Place loaves, seam sides down, in pans. Brush oil over loaves. Cover; let rise in warm place about 1 hour or until dough has doubled in size.
Move oven rack to lowest position; heat oven to 375°F. Bake 30 to 35 minutes or until loaves are deep golden brown and sound hollow when tapped. Remove from pans to cooling rack. Brush butter over loaves; cool.
Tips
For great yeast bread results, try these Gold Medal® flour varieties: Gold Medal® Better for Bread™ flour and Gold Medal® whole wheat flour.