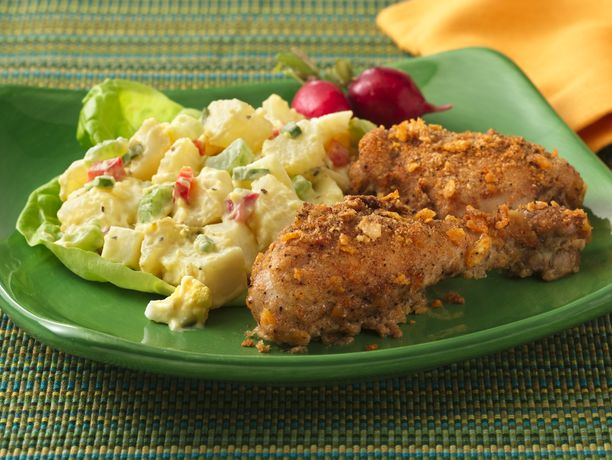 CRISPY BUTTERMILK OVEN-FRIED CHICKEN (MAKEOVER)
15 min Prep
1 hr 15 min Total
From Betty's Soul Food Collection... The secret's revealed! You can have oven-fried chicken that's moist on the inside and crispy, crunchy on the outside—just like pan-fried but with much less fat.
---
Ingredient List
1 cup corn flakes cereal

1/2 cup Gold Medal™ all-purpose flour

2 teaspoons garlic powder

1 teaspoon onion powder

1 teaspoon poultry seasoning

2 teaspoons black pepper

1 teaspoon paprika

1/2 teaspoon salt

1/2 teaspoon ground red pepper (cayenne)

1 cut-up whole chicken (3 to 3 1/2 lb), skin removed

1/4 cup buttermilk

Cooking spray
Preparation
Heat oven to 425°F. Line 13x9-inch pan with foil; spray foil with cooking spray.
Place cereal in food-storage plastic bag; seal bag and crush with rolling pin or meat mallet. In shallow dish, mix crushed cereal, the flour, garlic powder, onion powder, poultry seasoning, black pepper, paprika, salt and ground red pepper.
In another shallow dish, place chicken. Pour buttermilk over chicken pieces, turning to coat all sides. Remove chicken pieces, one at a time, from buttermilk, then dip in cereal mixture, turning to coat completely; shake off excess. Place chicken pieces, bone sides down, in pan. Spray top of chicken with cooking spray.
Bake uncovered 50 to 60 minutes or until juice of chicken is clear when thickest piece is cut to bone (170°F for breasts; 180°F for thighs and drumsticks).