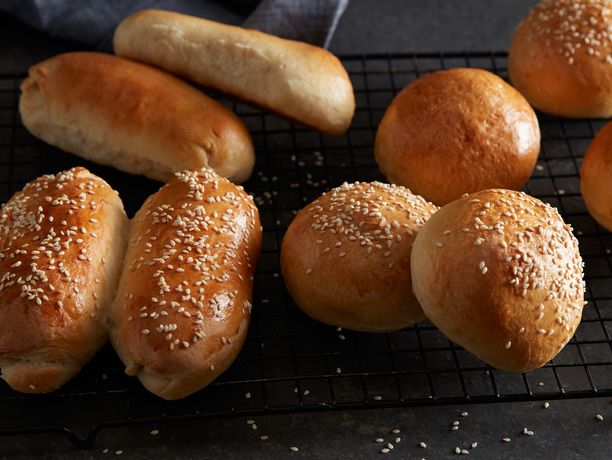 HAMBURGER AND HOT DOG BUNS
45 min Prep
2 hr 55 min Total
Use this soft and tender dough to make homemade hamburger buns or hot dog buns (or both!) for your next cookout.
---
Ingredient List
2 tablespoons sugar

2 packages (2 1/4 teaspoons each) regular active dry yeast

1/2 cup warm water (105°F to 115°F)

2 cups warm milk (105°F to 115°F)

2 tablespoons vegetable oil

1 tablespoon salt

6 to 7 1/2 cups Gold Medal™ all-purpose flour

1 egg beaten with 1 tablespoon water, for egg wash

1 tablespoon plus 1 1/2 teaspoons sesame seed, if desired
Preparation
In large bowl, stir sugar and yeast into warm water to dissolve. Stir in warm milk, oil, salt and 3 cups of the flour about 1 minute or until well combined. Stir in another 3 cups flour, 1/2 cup at a time, until soft dough forms. Transfer dough to lightly floured surface. Knead by hand 10 minutes, adding just enough remaining flour until dough is smooth, soft and elastic. Spray clean large bowl with cooking spray. Shape dough into ball, and transfer to bowl. Cover with plastic wrap, and let rise at room temperature about 1 hour or until doubled.
Meanwhile, sprinkle 2 large cookie sheets lightly with flour, or line with cooking parchment paper.
Punch down dough; divide into 18 equal pieces. Shape each piece into 3 1/2-inch disk (for hamburger buns) or 4 1/2-inch log (for hot dog buns), flattening each slightly. Place 1/2 inch apart on cookie sheets. Cover with clean kitchen towel, and let rise about 45 minutes or until puffy.
Heat oven to 400°F. Brush tops of buns with egg wash. Sprinkle each with 1/4 teaspoon sesame seed. Bake 20 to 25 minutes or until golden brown, switching sheets to opposite racks halfway through bake time. Transfer to cooling rack to cool completely.
Tips
The dough will be quite slack while kneading; try to add as little extra flour as possible to achieve the softest, most tender buns.
Swap sesame seed for poppy seed, if desired.