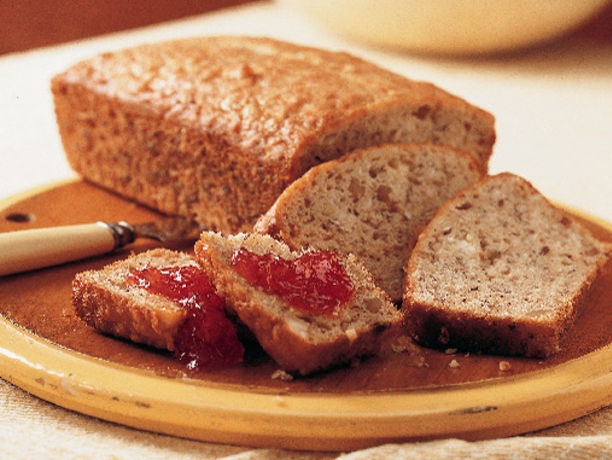 HAWAIIAN BANANA BREAD
20 min Prep
3 hr 30 min Total
Enjoy this classic quick bread with a tropical, nutty twist!
---
Ingredient List
1 1/4 cups sugar

1/2 cup butter or margarine, softened

2 eggs

1 1/2 cups mashed ripe bananas (3 to 4 medium)

1/2 cup buttermilk

1 teaspoon vanilla

2 1/2 cups Gold Medal™ all-purpose flour

1 teaspoon baking soda

1 teaspoon salt

1 jar (3 1/2 ounces) macadamia nuts, chopped and toasted

1/2 cup flaked coconut
Preparation
Move oven rack to lowest position. Heat oven to 350°F . Grease bottoms only of 2 loaf pans, 8 1/2x4 1/2x2 1/2 inches, or 1 loaf pan, 9x5x3 inches.
Stir together sugar and butter in large bowl. Stir in eggs until well blended. Add bananas, buttermilk and vanilla. Beat with wire whisk until smooth. Stir in flour, baking soda and salt just until moistened. Stir in nuts and coconut. Pour into pans.
Bake 8-inch loaves about 1 hour, 9-inch loaf about 1 1/4 hours, or until toothpick inserted in center comes out clean. Cool 10 minutes. Loosen sides of loaves from pans; remove from pans and place top side up on wire rack. Cool completely, about 2 hours, before slicing. Wrap tightly and store at room temperature up to 4 days, or refrigerate up to 10 days. To Bake Mini-Loaves: Grease bottoms only of 10 miniature loaf pans, 4 1/2x2 3/4x1 1/4 inches. Divide batter among pans (about 1/2 cup each). Bake 30 to 35 minutes. 10 mini-loaves.
Tips
Hard to believe, but macadamia nuts were once grown only for decorative purposes. Luckily, someone discovered that these buttery, slightly sweet nuts are good to eat, too!
Ripe bananas make the most flavorful banana bread.