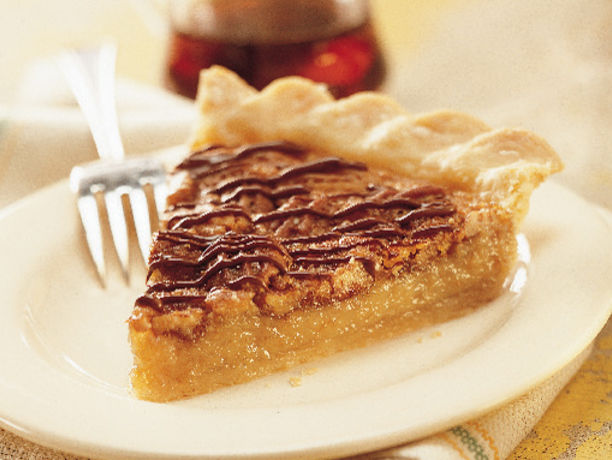 MAPLE PECAN PIE
20 min Prep
1 hr 30 min Total
Pecan pie, rich with maple syrup and a chocolate drizzle? Indulge yourself!
---
Ingredient List
Maple Pastry

1 cup Gold Medal™ all-purpose flour

1/2 teaspoon salt

1/3 cup plus 1 tablespoon shortening

1/2 teaspoon maple flavor plus cold water to make 3 tablespoons
Pie

2/3 cup sugar

1/3 cup butter or margarine, melted

1 cup real maple syrup or maple-flavored syrup

1/2 teaspoon salt

3 eggs

1 cup pecan halves

1/4 cup semisweet chocolate chips

1 teaspoon shortening
Preparation
Heat oven to 375°F.
In medium bowl, mix flour and 1/2 teaspoon salt. Cut in 1/3 cup plus 1 tablespoon shortening, using pastry blender or crisscrossing 2 knives, until particles are size of small peas. Sprinkle in cold maple flavor mixture, 1 tablespoon at a time, tossing with fork until all flour is moistened and pastry almost cleans side of bowl.
Gather pastry into a ball; shape into flattened round on lightly floured surface. With floured rolling pin, roll 2 inches larger than upside-down 9-inch pie plate. Ease pastry into pie plate, pressing firmly against bottom and side. Trim overhanging edge of pastry 1 inch from rim of plate. Fold and roll pastry under, even with plate; flute.
In medium bowl, beat sugar, butter, maple syrup, 1/2 teaspoon salt and the eggs with hand beater until smooth. Stir in pecans. Pour into pastry-lined pie plate. Cover edge of pastry with 2- to 3-inch strip of foil to prevent excessive browning; remove foil for last 15 minutes of baking.
Bake 40 to 50 minutes or until set. Cool 15 minutes. In 1-quart saucepan, melt chocolate chips and 1 teaspoon shortening over low heat, stirring constantly; drizzle over top of pie. Serve pie warm or cool.
Tips
Use Betty Crocker® pie crust mix for the scratch pie crust in this recipe and save time.
When you want pecan pie, this is the recipe to try. Swapping maple syrup in for corn syrup gives the filling a super rich and sweet flavor, and a 1/2 teaspoon of maple flavor added to the scratch-made crust elevates the flavor even more. But what really sets this maple pecan pie apart is the chocolate drizzle at the end. One word of warning: this pie doesn't last long, so go ahead and indulge in a second piece! By the way, Betty's got all the tips you need to make the perfect scratch pie crust, even on your first try.