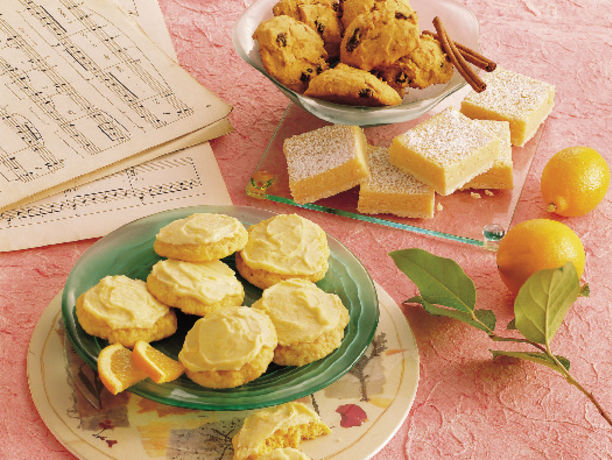 PUMPKIN DROP COOKIES
10 min Prep
1 hr 10 min Total
Fill your cookie jar with these spicy pumpkin drop cookies that are both tasty and filling!
---
Ingredient List
1/2 cup butter or margarine, softened

3/4 cup granulated sugar

3/4 cup packed brown sugar

2 eggs

1 can (15 ounces) pumpkin (not pumpkin pie mix)

2 1/2 cups Gold Medal™ all-purpose flour

2 1/2 teaspoons baking powder

1 teaspoon baking soda

1 teaspoon salt

1 teaspoon ground cinnamon

1/4 teaspoon ground allspice

1/4 teaspoon ground nutmeg

1 cup raisins
Preparation
Heat oven to 375°. Grease cookie sheet with shortening. Mix butter and sugars in large bowl with spoon. Beat in eggs. Stir in pumpkin. Stir in remaining ingredients except raisins. Fold in raisins.
Drop dough by tablespoonfuls about 2 inches apart onto cookie sheet.
Bake 10 to 12 minutes or until set and golden. Cool 1 to 2 minutes; remove from cookie sheet to wire rack.
Tips
Catherine H. Shares her Recipe "I have always baked a lot of cookies, and my favorite recipes contained oatmeal, coconut, dried fruits or nuts, which did not fit my low-residue diet restrictions. This recipe and the following one are low residue."
Low fiber; low residue
A Note FROM Dr. Ghosh Pumpkin is rich in beta-carotene, a form of vitamin A. Studies show that vitamin A, an antioxidant vitamin, may reduce the risk of certain types of cancer.