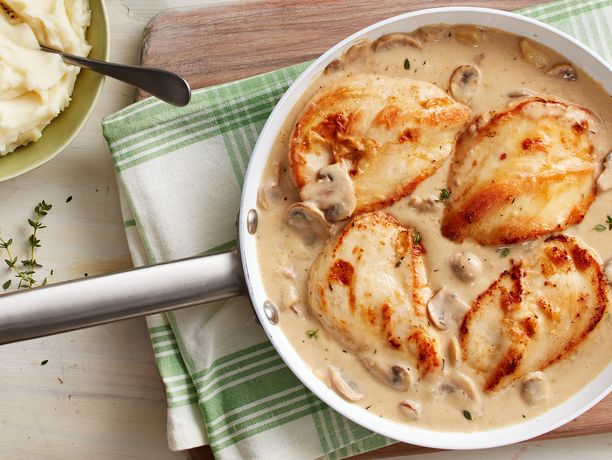 SKILLET CHICKEN WITH ROASTED GARLIC AND MUSHROOM GRAVY
25 min Prep
1 hr 10 min Total
Roasted garlic and sautéed mushrooms, with a little help from Progresso™ chicken broth, give this creamy sauce a slightly sweet earthiness that turns ordinary chicken breasts into a special meal.
---
Ingredient List
2 garlic bulbs

2 teaspoons olive oil

4 boneless skinless chicken breasts (about 1 1/4 lb)

1/2 cup Gold Medal™ all-purpose flour

1/2 teaspoon dried thyme leaves

1/2 teaspoon salt

1/4 teaspoon pepper

1/4 cup butter

8 oz sliced mushrooms

1 1/2 cups Progresso™ chicken broth (from 32-oz carton)

1/2 cup heavy whipping cream
Preparation
Heat oven to 350°F.
Cut 1/4 to 1/2 inch from top of each garlic bulb to expose cloves. Place each cut side up on 12-inch square of foil. Drizzle each bulb with 1 teaspoon of the oil. Wrap securely in foil. Place in pie plate or shallow baking pan. Bake 45 to 50 minutes or until garlic is tender when pierced with toothpick or fork. Cool slightly. From root end, squeeze soft cloves out of papery skins, and chop finely. Set aside.
Meanwhile, between pieces of plastic wrap or waxed paper, place each chicken breast smooth side down; gently pound with flat side of meat mallet or rolling pin until about 1/4 inch thick. In shallow pan, stir together flour, thyme, salt and pepper. Reserve 3 tablespoons of the seasoned flour for the sauce. Coat both sides of chicken with remaining flour mixture.
In 12-inch skillet, heat 2 tablespoons of the butter over medium-high heat. Cook chicken in butter 6 to 8 minutes, turning once, until no longer pink in center (at least 165°F). Transfer chicken to plate; cover to keep warm.
In same skillet, heat remaining 2 tablespoons butter over medium heat. Cook mushrooms in butter until lightly browned. Sprinkle the 3 tablespoons reserved seasoned flour over mushrooms. Cook and stir 2 minutes. Stir in chicken broth, cream and roasted garlic. Heat to boiling. Reduce heat to low; simmer about 3 minutes or until slightly thickened.
Place chicken back into skillet with sauce about 1 minute or until heated through. Serve with mashed potatoes, if desired.
Tips
For a walk on the wild side, try using sliced cremini or shitake mushrooms in this recipe.
If you prefer to use fresh herbs instead of dried, here's a good rule of thumb to follow. Fresh herbs are generally less potent and concentrated than dried herbs, so you'll need more -- typically three times the amount of fresh herbs as dry. For instance, this recipe calls for 1/2 teaspoon dried thyme, so you would use 1 1/2 teaspoons finely chopped fresh thyme.