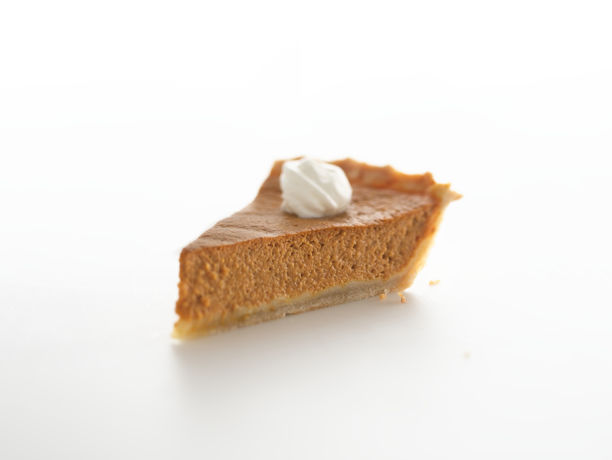 SKINNY PUMPKIN PIE
25 min Prep
2 hr 25 min Total
53% less fat • 80% less sat fat • 24% fewer calories than the original recipe. The real secret's in the crust.
---
Ingredient List
Pastry

1 1/4 cups Gold Medal™ all-purpose flour

1 teaspoon sugar

1/4 teaspoon salt

1/4 cup vegetable oil

3 to 4 tablespoons fat-free (skim) milk
Filling

3 egg whites or 1/2 cup fat-free egg product

1/2 cup sugar

1 1/2 teaspoons pumpkin pie spice

1/8 teaspoon salt

1 can (15 oz) pumpkin (not pumpkin pie mix)

1 can (12 oz) evaporated fat-free milk

1/2 teaspoon vanilla
Preparation
Heat oven to 425°F. In medium bowl, mix flour, 1 teaspoon sugar, 1/4 teaspoon salt and the oil with fork until well mixed. Stir in milk, 1 tablespoon at a time, tossing with fork until all flour is moistened and pastry almost leaves side of bowl. Shape pastry into a ball, using your hands. Press pastry in bottom and up side of 9-inch glass pie plate; flute as desired or press pastry to top edge of pie plate with fingers or fork.
In medium bowl, beat egg whites slightly with wire whisk or egg beater. Beat in remaining filling ingredients. Pour filling into pastry-lined pie plate; carefully place on oven rack. Bake 15 minutes.
Reduce oven temperature to 350°F. Cover edge of pie crust with 2- to 3-inch strip of foil to prevent excessive browning. Bake about 45 minutes longer or until knife inserted in center comes out clean. Cool on cooling rack at least 1 hour before serving. After cooling, pie can remain at room temperature up to an additional 5 hours, then should be covered and refrigerated.
Tips
Eat Better America Test Kitchens replaced ingredients with great-tasting alternatives to create better-for-you recipes that are just as yummy as the originals.
The sugar and milk used in the pastry contribute to the browning and tenderness of the baked crust. In the filling, vanilla enhances the flavor, adding a little sweetness to compensate for the reduction in sugar from the original version.