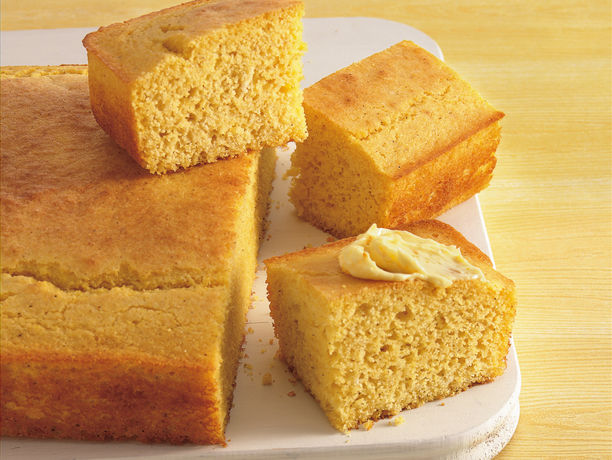 You can use yellow, white or blue cornmeal to make this classic cornbread.
---
Ingredient List
1 cup milk

1/4 cup butter or margarine, melted

1 egg

1 1/4 cups yellow, white or blue cornmeal

1 cup Gold Medal™ all-purpose flour

1/2 cup sugar

3 teaspoons baking powder

1/2 teaspoon salt
Preparation
Heat oven to 400°F. Grease bottom and side of round pan, 9x1 1/2 inches, or square pan, 8x8x2 inches.
Beat milk, butter and egg in large bowl. Stir in remaining ingredients all at once just until flour is moistened (batter will be lumpy). Pour batter into pan.
Bake 20 to 25 minutes or until golden brown and toothpick inserted in center comes out clean.
Tips
Not all cornmeal is yellow! It can also be white or blue, depending on the type of corn it came from.
To ensure recipe success if using a vegetable oil spread, use a spread with at least 65% vegetable oil.
Rise to the occasion! If using self-rising flour, there is no need to add baking powder and salt.
If you prefer corn muffins, grease just the bottoms of 12 regular-size muffin cups, or place paper baking cups in muffin cups. Fill about 3/4 full with batter.