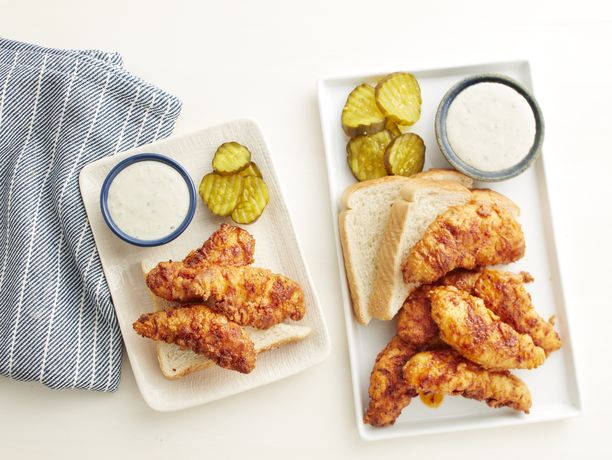 TENNESSEE HOT FRIED CHICKEN TENDERS
Chicken tenders are pan-fried until crunchy and golden and brushed with a cayenne-spiced butter for a dish that will bring the heat out of your kitchen and onto your dinner table.
---
Ingredient List
1 package (14 oz) uncooked chicken tenders (not breaded)

1 teaspoon salt

1/2 teaspoon freshly ground black pepper

1 cup Gold Medal™ all-purpose flour

1/2 cup buttermilk

1 teaspoon Frank's™ RedHot™ Original cayenne pepper sauce

2 cups vegetable oil

3 tablespoons butter

1 teaspoon paprika

1/2 to 1 teaspoon ground red pepper (cayenne)

1/4 teaspoon garlic powder
Preparation
Season chicken tenders with 1/2 teaspoon of the salt and 1/4 teaspoon of the pepper.
In shallow bowl, mix flour, remaining 1/2 teaspoon salt and remaining 1/4 teaspoon pepper with whisk. In another shallow bowl, beat buttermilk and hot sauce together with whisk. Dredge chicken tenders in seasoned flour, then in buttermilk mixture, and back in flour.
In 12-inch skillet, heat oil over medium-high heat until hot (350°F). Fry tenders in hot oil, all at once, about 5 minutes, turning once, until deep golden brown and no longer pink in center (at least 165°F). Place on rack lined with paper towels to drain, with paper towels underneath rack.
In 1-quart saucepan, melt butter over medium-low heat. Beat in paprika, red pepper and garlic powder with whisk. Brush fried chicken tenders with spicy butter. Serve with slices of white bread and sweet pickles, if desired.
Tips
How hot is Tennessee hot? It's up to you. We suggest a range of cayenne pepper from 1/2 to 1 teaspoon. At the lower end of the range, you will feel it, but it won't be overwhelming. At the upper end of the range, you will definitely get a more intense heat.
To cool the heat a bit, you could serve your favorite ranch dressing alongside these tenders as a dipping sauce.