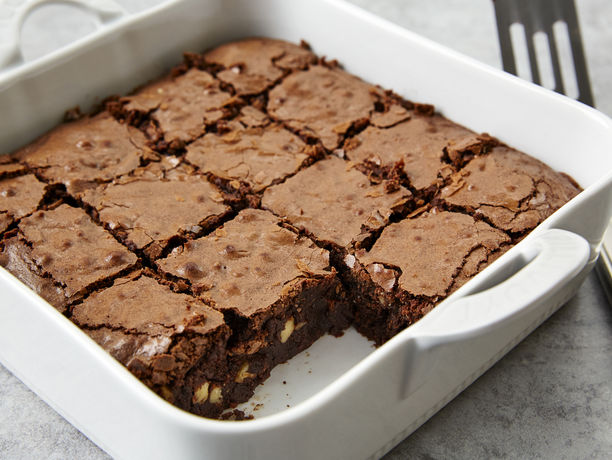 THE ULTIMATE BROWNIE
20 min Prep
1 hr 35 min Total
This is Betty's all-time favorite homemade brownie!
---
Ingredient List
2/3 cup butter or margarine

5 oz unsweetened baking chocolate, cut into pieces

1 3/4 cups sugar

2 teaspoons vanilla

3 eggs

1 cup Gold Medal™ all-purpose flour

1 cup chopped walnuts
Preparation
Heat oven to 350°F. Grease bottom and sides of 9-inch square pan. In 1-quart saucepan, melt butter and chocolate over low heat, stirring constantly. Cool slightly.
In medium bowl, beat sugar, vanilla and eggs with electric mixer on high speed 5 minutes. Beat in chocolate mixture on low speed. Beat in flour just until blended. Stir in walnuts. Spread in pan.
Bake 40 to 45 minutes or just until brownies begin to pull away from sides of pan. Cool completely in pan on cooling rack. For brownies, cut into 4 rows by 4 rows.
Tips
To keep the edges moist and chewy, watch carefully to be sure you don't overbake the brownies.
To ensure recipe success if using a vegetable oil spread, use a spread with at least 65% vegetable oil.
To ensure recipe success, do not use self-rising flour in this recipe.