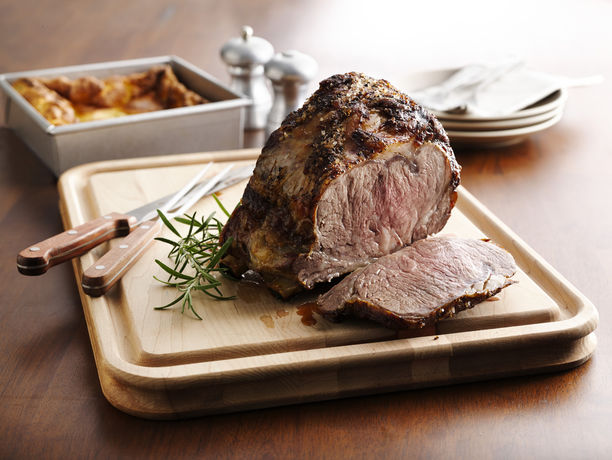 BEEF RIB ROAST WITH YORKSHIRE PUDDING
20 min Prep
4 hr 0 min Total
Here's a show-stopping dinner you can serve at your next holiday. This beef roast only takes 20 minutes of hands-on prep before you whisk it into the oven — giving you plenty of time to prepare sides. Serving the roast with the classic English "pudding" is an easy way to make this dinner extra special.
---
Ingredient List
Beef Roast

1 beef rib roast (small end), 4 to 6 lb

1/2 teaspoon salt

1/4 teaspoon pepper
Yorkshire Pudding

Vegetable oil, if necessary

1 cup Gold Medal™ all-purpose flour

1 cup milk

1/2 teaspoon salt

2 eggs
Preparation
Heat oven to 350°F. For easy cleanup, line shallow roasting pan with foil. In pan, place beef, fat side up; sprinkle with 1/2 teaspoon salt and the pepper. Insert ovenproof meat thermometer so tip is in center of the thickest part of beef and does not rest in fat or touch bone. (Do not add water.)
For medium-rare, bake 1 hour 45 minutes to 2 hours 15 minutes or until thermometer reads 135°F. Remove beef from pan onto carving board. Cover beef loosely with foil and let stand 15 to 20 minutes until thermometer reads 145°F. (Temperature will continue to rise about 10°F, and beef will be easier to carve.) For medium, bake uncovered 2 hours 15 minutes to 2 hours 45 minutes or until thermometer reads 150°F. Cover beef loosely with foil and let stand 15 to 20 minutes or until thermometer reads 160°F.
While beef is standing, make Yorkshire Pudding. Measure pan drippings, adding enough oil to drippings, if necessary, to measure 1/4 cup. Place hot drippings in 9-inch square pan; place pan in oven and heat until hot. Increase oven temperature to 450°F. In medium bowl, beat flour, milk, 1/2 teaspoon salt and the eggs with wire whisk just until smooth. Pour batter into pan of drippings and oil. Bake 18 to 23 minutes or puffy and golden brown (pudding will puff during baking but will deflate shortly after being removed from oven). Cut pudding into squares; serve immediately with beef.
Tips
Yorkshire Pudding is similar to a popover. Instead of baking in individual cups, though, Yorkshire Pudding bakes in a pan, nestled with the roast beef drippings. When puffed and golden, it is cut into squares and served with the roast beef.
Like a hot soufflé, Yorkshire pudding deflates shortly after it comes out of the oven. If you're going for the "oohs" and "aahs" of dinner guests, try to get the pudding to the table as quickly as possible.