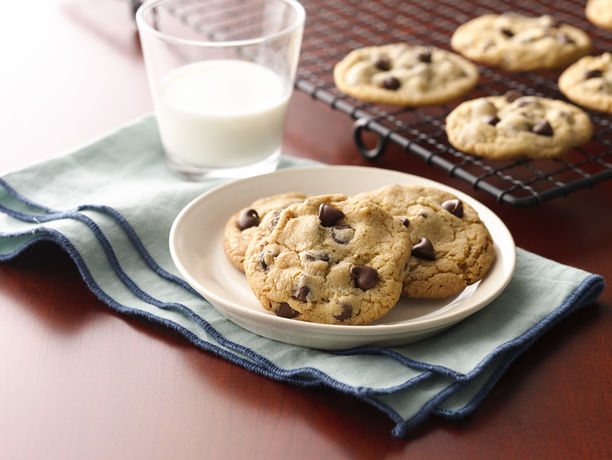 BUTTERY CHOCOLATE CHIP COOKIES
An easy chocolate chip cookie to make with extraordinary results!
---
Ingredient List
1 1/2 cups butter or margarine, softened

1 1/4 cups granulated sugar

1 1/4 cups packed brown sugar

1 tablespoon vanilla

2 eggs

4 cups Gold Medal™ all-purpose flour

2 teaspoons baking soda

1 teaspoon salt

1 package (24 ounces) semisweet chocolate chips (4 cups)
Preparation
Heat oven to 350°F. Mix butter, sugars, vanilla and eggs in large bowl using spoon. Stir in flour, baking soda and salt. Stir in chocolate chips.
Drop dough by rounded measuring tablespoonfuls about 2 inches apart onto ungreased cookie sheet.
Bake 12 to 15 minutes or until light brown. Cool slightly. Remove from cookie sheet to wire rack; cool.
Tips
Chocolate Lover's Shortcut: For a quick answer to those cookie cravings and as a fun way for the kids to start baking, pick up a few pouches of Betty Crocker® chocolate chip cookie mix. Delicious!
Want to know what makes chocolate chip cookies even better? More butter, of course! The extra butter in these cookies makes them super tender. If that sounds like your style, go ahead and preheat your oven to 375°F. Since butter is the key ingredient in this recipe, here are a few tips to using this sometimes slippery ingredient. It takes 30-45 minutes at room temperature to soften butter properly. You'll know your butter is perfectly softened when your fingertip leaves a slight indentation, but the stick still holds its shape. The Betty Crocker Test Kitchens also has a quick solution for softening butter, without melting it, for those times when taking the butter out to soften isn't top of mind. Simply remove butter from packaging, place in glass bowl and cover with a damp paper towel and plastic wrap. Heat on high. For the quantity of butter called for in this recipe, you should cook for one minute and let the butter stand for two minutes. If necessary, repeat the process once more. Properly softened butter will ensure your cookies don't spread too much, and they come out as soft, pillowy mounds of chocolate-studded love! Once you try one of these buttery cookies, we think you'll appreciate that there's 42 cookies in a batch. Find more tips on baking perfect chocolate chip cookies, or find a different cookie recipe. We've got all the cookies you could ever need, from chewy chocolate chip to extra chocolatey and everything in between.