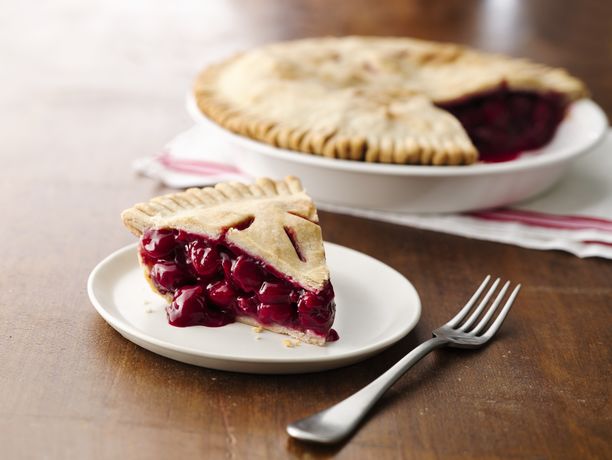 CHERRY PIE
40 min Prep
3 hr 25 min Total
Looking for a fruit dessert? Then check out this delicious pie with cherry filling - a cool treat!
---
Ingredient List
Pastry

2 cups Gold Medal™ all-purpose flour

1 teaspoon salt

2/3 cup plus 2 tablespoons shortening

4 to 6 tablespoons cold water
Filling

1 1/3 cups sugar

1/2 cup Gold Medal™ all-purpose flour

6 cups sour cherries, pitted

2 tablespoons butter or margarine, if desired
Preparation
Heat oven to 425°F. In medium bowl, mix 2 cups flour and the salt. Cut in shortening, using pastry blender (or pulling 2 table knives through ingredients in opposite directions), until particles are size of small peas. Sprinkle with cold water, 1 tablespoon at a time, tossing with fork until all flour is moistened and pastry almost leaves side of bowl (1 to 2 teaspoons more water can be added if necessary).
Gather pastry into a ball. Divide pastry in half; shape into 2 rounds. Wrap flattened rounds of pastry in plastic wrap; refrigerate about 45 minutes or until dough is firm and cold, yet pliable.
Roll pastry on lightly floured surface, using floured rolling pin, into circle 2 inches larger than upside-down 9-inch glass pie plate. Fold pastry into fourths and place in pie plate; or roll pastry loosely around rolling pin and transfer to pie plate. Unfold or unroll pastry and ease into plate, pressing firmly against bottom and side and being careful not to stretch pastry, which will cause it to shrink when baked.
In large bowl, mix sugar and 1/2 cup flour. Stir in cherries. Spoon into pastry-lined pie plate. Cut butter into small pieces; sprinkle over cherries. Cover with top pastry that has slits cut in it; seal and flute. Cover edge with 2- to 3-inch strip of foil to prevent excessive browning; remove foil during last 15 minutes of baking.
Bake 35 to 45 minutes or until crust is golden brown and juice begins to bubble through slits in crust. Cool on cooling rack at least 2 hours before serving.
Tips
There are two types of cherries—sweet and sour. Sour cherries, also called pie cherries, tart cherries or tart red cherries make wonderful pies. Sweet cherries are great for eating fresh, but not for pies.
Substitute 6 cups frozen unsweetened pitted red tart cherries, thawed and drained, or 3 cans (14.5 oz each) pitted red tart cherries, drained, for the fresh cherries.