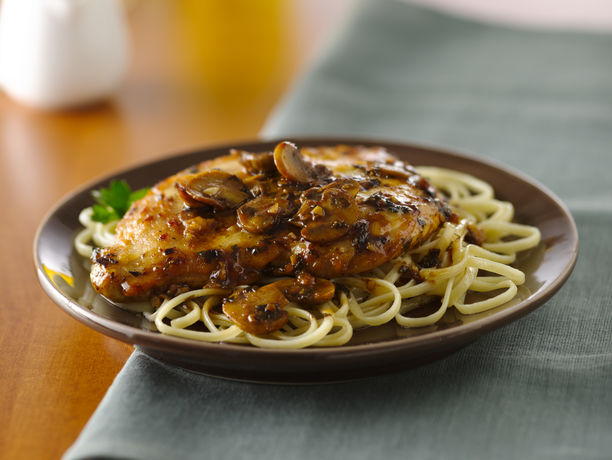 Savor a classic Italian chicken dish made with a classic dry Italian wine.
---
Ingredient List
4 boneless skinless chicken breasts (about 1 1/4 lb)

1/2 cup Gold Medal™ all-purpose flour

1/4 teaspoon salt

1/4 teaspoon pepper

2 tablespoons olive or vegetable oil

2 cloves garlic, finely chopped

1 cup sliced fresh mushrooms (3 oz)

1/4 cup chopped fresh parsley or 1 tablespoon parsley flakes

1/2 cup dry Marsala wine or Progresso™ chicken broth (from 32-oz carton)

Hot cooked pasta, if desired
Preparation
Between sheets of plastic wrap or waxed paper, flatten each chicken breast to 1/4-inch thickness. In shallow dish, mix flour, salt and pepper. Coat chicken with flour mixture; shake off excess flour.
In 10-inch skillet, heat oil over medium-high heat. Cook garlic, mushrooms and parsley in oil 5 minutes, stirring frequently.
Add chicken to skillet. Cook about 8 minutes, turning once, until brown. Add wine. Cook 8 to 10 minutes or until chicken is no longer pink in center. Serve with pasta.
Tips
Marsala is an amber-colored wine from Sicily, with a flavor similar to, but richer than, sherry. Marsala can be dry or sweet. Dry marsala is used for savory dishes, and sweet marsala is used mainly in desserts.