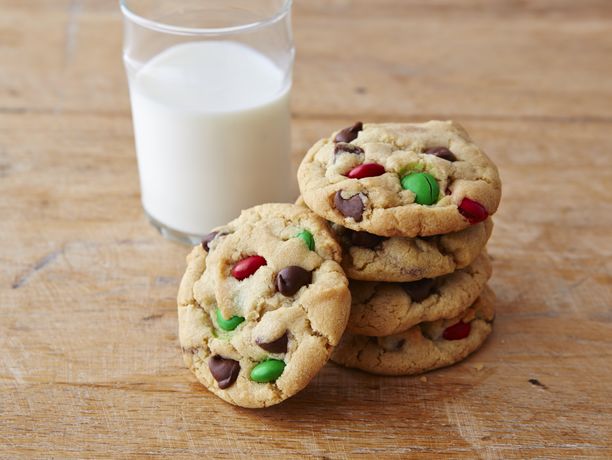 CHOCOLATE CHIP M&MS™ CHRISTMAS COOKIES
2 hr 20 min Prep
2 hr 35 min Total
Make festive chocolate chip cookies for the holidays by adding popular red and green M&M's ™ chocolate candies.
---
Ingredient List
1 1/4 cups butter or margarine, slightly softened

1/4 cup shortening

1 1/4 cups granulated sugar

1 1/4 cups packed brown sugar

1 tablespoon vanilla

2 eggs

4 1/4 cups Gold Medal™ all-purpose flour

2 teaspoons baking soda

1/2 teaspoon salt

1 bag (12 oz) semisweet chocolate chips (2 cups)

1 bag (14 oz) M&M's® chocolate candies
Preparation
Heat oven to 375°F. In large bowl, beat butter, shortening, sugars, vanilla and eggs with electric mixer on medium speed, or mix with spoon. Stir in flour, baking soda and salt (dough will be stiff). Stir in chocolate chips and chocolate candies.
On ungreased cookie sheet, drop dough by level teaspoonfuls or #70 cookie/ice cream scoop about 2 inches apart.
Bake 10 to 11 minutes or until light brown (centers will be soft). Cool 1 to 2 minutes; remove from cookie sheet to cooling rack.
Tips
Making these cookies will go a lot faster if you use a cookie/ice cream scoop. Level off the cookie dough in the scoop on the edge of the bowl.
Make Four-Chip Cookies by using 1 cup each semisweet chocolate chips, milk chocolate chips, white vanilla baking chips and butterscotch chips in place of 2 cups semisweet chocolate chips and the chocolate candies.