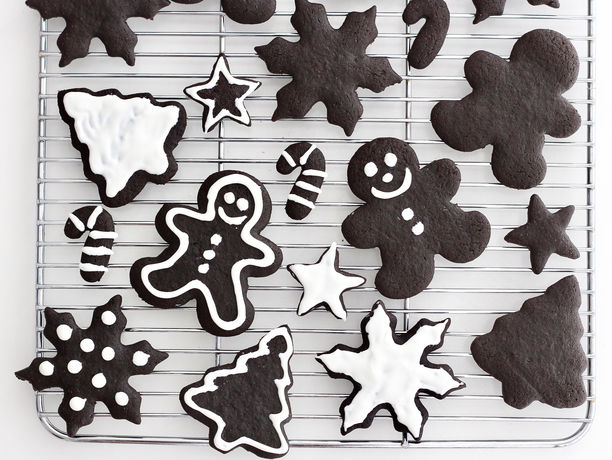 CHOCOLATE SUGAR COOKIES
60 min Prep
1 hr 10 min Total
Perfectly soft and sweet sugar cookies with a rich chocolate twist…chocolate lovers rejoice!
---
Ingredient List
3 cups Gold Medal™ all-purpose flour

1 cup unsweetened dark cocoa powder

2 teaspoons baking powder

1 teaspoon kosher salt

1 cup (2 sticks) unsalted butter, softened

1 cup granulated sugar

1 cup light brown sugar

2 tablespoons milk

1 teaspoon vanilla

3 large eggs
Preparation
In a large bowl, whisk together flour, cocoa, baking powder, and salt. In the bowl of an electric mixer fitted with the paddle attachment, beat the butter, granulated sugar and brown sugar until creamy. Beat in the milk and vanilla and then the eggs, one at a time, until mixture is well combined. With the mixer on low speed, slowly add the dry ingredients until a thick soft dough forms. Divide dough into 2 balls, wrap each one in plastic wrap and refrigerate for about 30 minutes.
Preheat oven to 350°F. Between two pieces of parchment paper, roll each ball of dough out to 1/4-inch thick. Cut into desired shapes. Repeat with remaining dough until you've used it all.
With a spatula, transfer cookies to parchment-lined baking sheets, placing them about an inch apart. Bake for about 8-10 minutes, rotating cookie sheets after 5 minutes, or until cookies are set in the middle. Let cool on baking sheets for 5 minutes before transferring to a wire rack to cool completely. Ice and decorate once cooled.