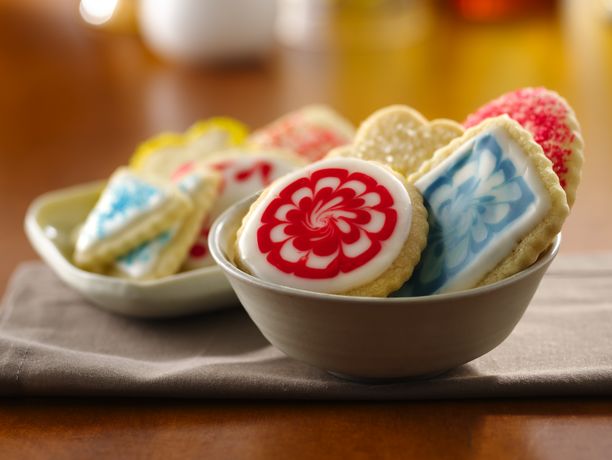 CLASSIC SUGAR COOKIES
60 min Prep
3 hr 10 min Total
Some things just don't change. Delicate sugar cookies have been favorites for generations. Whether sprinkled with colored sugar, frosted or elaborately decorated, they're as popular now as in years past.
---
Ingredient List
1 1/2 cups powdered sugar

1 cup butter or margarine, softened

1 teaspoon vanilla

1/2 teaspoon almond extract

1 egg

2 1/2 cups Gold Medal™ all-purpose flour

1 teaspoon baking soda

1 teaspoon cream of tartar

Granulated sugar or colored sugar
Preparation
Mix powdered sugar, butter, vanilla, almond extract and egg in large bowl. Stir in remaining ingredients except granulated sugar. Cover and refrigerate at least 2 hours.
Heat oven to 375°F. Lightly grease cookie sheet.
Divide dough in half. Roll each half 1/4 inch thick on lightly floured surface. Cut into desired shapes with 2- to 2 1/2-inch cookie cutters. Sprinkle with granulated sugar. Place on cookie sheet.
Bake 7 to 8 minutes or until edges are light brown. Remove from cookie sheet. Cool on wire rack.
Tips
You can prevent cookie dough from sticking to the cookie cutter by dipping the cutter in flour between uses.
Rise to the occasion! If using self-rising flour, there is no need to add baking soda and cream of tartar.
To ensure recipe success, do not use vegetable oil spreads.
For swirl frosted cookies, frost each cookie with white cookie icing. Pipe 4 to 5 small dots red, green or blue cookie icing or decorating gel on top of each cookie, immediately swirl color with toothpick to create marble designs.