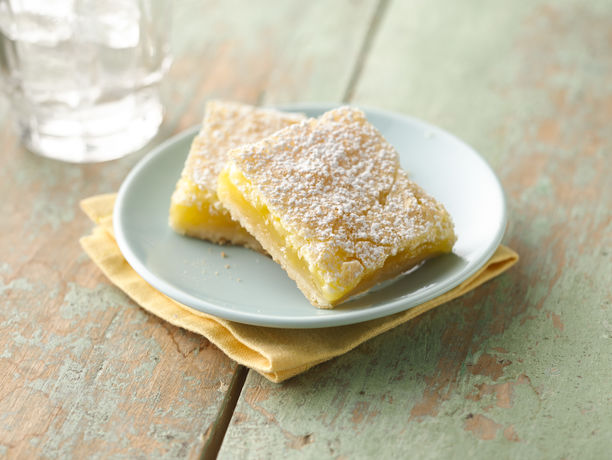 Everyone loves homemade lemon squares! These refreshing sweet and lightly tart lemon squares are Betty's Best.
---
Ingredient List
1 cup Gold Medal™ all-purpose flour

1/2 cup butter or margarine, softened

1/4 cup powdered sugar

1 cup granulated sugar

2 teaspoons grated lemon peel, if desired

2 tablespoons lemon juice

1/2 teaspoon baking powder

1/4 teaspoon salt

2 eggs

Powdered sugar
Preparation
Heat oven to 350°F.
Mix flour, butter and powdered sugar. Press in ungreased square pan, 8x8x2 or 9x9x2 inches, building up 1/2-inch edges.
Bake crust 20 minutes.
Beat granulated sugar, lemon peel, lemon juice, baking powder, salt and eggs with electric mixer on high speed about 3 minutes or until light and fluffy. Pour over hot crust.
Bake 25 to 30 minutes or until no indentation remains when touched lightly in center. Cool; dust with powdered sugar. Cut into about 1 1/2-inch squares.
Tips
Grate only the yellow portion of the lemon; the white portion, or pith, is very bitter.
Rise to the occasion! Self-rising flour can be used in this recipe. (Do not omit baking powder and salt.)
To ensure recipe success, do not use vegetable oil spreads.
For a bright lemon color, add 4 to 6 drops of yellow food color with the eggs and sugar mixture.
One medium lemon should give you just enough peel and juice to make these refreshing bar cookies.
Make Lemon-Coconut Squares: Stir 1/2 cup flaked coconut into egg mixture in step 2.