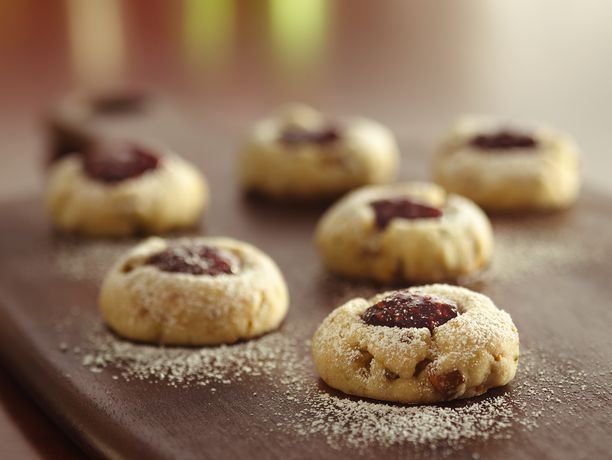 RASPBERRY PISTACHIO THUMBPRINTS
1 hr 20 min Prep
1 hr 50 min Total
Here's a must-have holiday cookie that's a great addition to any dessert buffet.
---
Ingredient List
1 cup butter or margarine, softened

1/2 cup powdered sugar

2 cups Gold Medal™ all-purpose flour

1/4 teaspoon salt

1 teaspoon vanilla

1 cup finely chopped roasted pistachio nuts

1 jar (12 oz) red raspberry jam

2 tablespoons powdered sugar
Preparation
Heat oven to 325°F. In large bowl, beat butter and 1/2 cup powdered sugar with electric mixer on medium speed until creamy. Stir in flour, salt, vanilla and nuts.
Shape dough into 1 1/4-inch balls. On ungreased cookie sheet, place balls about 1 inch apart. Press thumb into center of each cookie to make indentation, but do not press all the way to the cookie sheet.
Bake 15 to 17 minutes or until set but not browned. Quickly remake indentation with end of wooden spoon handle if necessary. Remove from cookie sheet to cooling rack; cool completely, about 30 minutes.
Fill each thumbprint with about 1 rounded teaspoonful of jam. Sprinkle 2 tablespoons powdered sugar over jam-filled centers.
Tips
Laura Murphy from Columbus, MS created this recipe for a Celebrate the Season Holiday Cookie Contest.
"This recipe is an updated version of a thumbprint cookie recipe that has played a big role in initiating the holiday season for my family for as long as I can remember. We are always sad to see them go with the Christmas season, though they are well worth the wait each year." Laura Murphy
A food processor works great for finely chopping the pistachio nuts.
You can substitute strawberry jam or your favorite flavor for the raspberry.