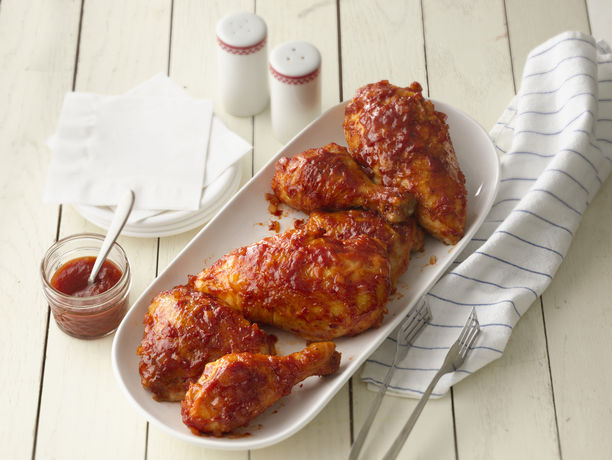 BAKED MOUTH-WATERING BARBECUED CHICKEN
15 min Prep
1 hr 10 min Total
The name says it all. The sweet-and-tangy sauce coating these tender chicken pieces will make your mouth water!
---
Ingredient List
Chicken

1/2 cup Gold Medal™ all-purpose flour

1 teaspoon salt

1 teaspoon paprika

1/4 teaspoon pepper

1/4 cup butter or margarine

1 cut-up whole chicken (3 to 3 1/2 lb)
Barbecue Sauce

1 cup ketchup or 1 can (8 oz) tomato sauce

1/2 cup hot water

1/3 cup lemon juice

1 teaspoon salt

1 teaspoon sugar

2 teaspoons paprika

1/2 teaspoon pepper

1 tablespoon Worcestershire sauce

1 medium onion, finely chopped (1/2 cup)
Preparation
Heat oven to 425°F. Mix flour, salt, paprika and pepper. Sprinkle both sides of chicken with flour mixture.
Melt butter in 13x9-inch (3-quart) glass baking dish in oven. Place chicken, skin sides down, in dish. Bake 45 minutes.
Meanwhile, in 1-quart saucepan, heat all barbecue sauce ingredients to boiling, stirring occasionally. Keep warm.
Drain and turn chicken; reduce oven temperature to 375°F. Spoon hot barbecue sauce over chicken. Bake 15 minutes longer or until juice of chicken is clear when thickest piece is cut to bone (170°F for breasts; 180°F for thighs and drumsticks).
Tips
Use 1 cup bottled chili sauce instead of the ketchup for even more tang!
No time to make the barbecue sauce? Why not use 1 1/2 cups of your favorite purchased sauce instead?