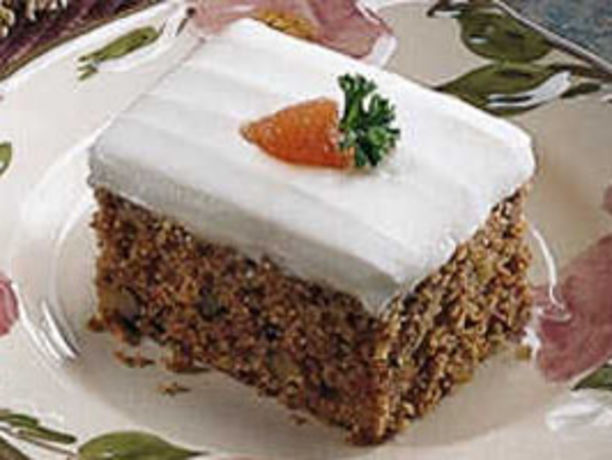 CARROT CAKE (LIGHTER RECIPE)
20 min Prep
1 hr 5 min Total
Low-fat ingredients like applesauce, egg whites and reduced-fat cream cheese make for a cake with the same great flavor of high-fat carrot cakes.
---
Ingredient List
Cake

1 1/2 cups granulated sugar

1/2 cup vegetable oil

1/2 cup unsweetened applesauce

2 teaspoons vanilla

1 egg

4 egg whites

2 cups Gold Medal™ all-purpose flour

1 3/4 teaspoons ground cinnamon

1 teaspoon baking soda

1/2 teaspoon salt

1/4 teaspoon ground nutmeg

5 medium carrots, shredded (3 cups)
Cream Cheese Frosting

4 oz (half of 8-oz package) reduced-fat cream cheese (Neufchâtel), softened

1 1/2 teaspoons fat-free (skim) milk

1/2 teaspoon vanilla

2 cups powdered sugar
Preparation
Heat oven to 350°F. Grease and flour bottom and sides of 13x9-inch pan. In large bowl, mix sugar, oil, applesauce, vanilla, egg and egg whites until blended; beat with spoon 1 minute. Stir in remaining cake ingredients except carrots; beat with spoon 1 minute. Stir in carrots. Pour into pan.
Bake 45 minutes or until toothpick inserted in center comes out clean. Cool in pan on cooling rack.
In medium bowl, beat cream cheese, milk and 1/2 teaspoon vanilla with electric mixer on low speed until smooth. Gradually beat in powdered sugar, 1 cup at a time, until smooth and spreadable. Spread frosting over cake.
Tips
Mixing time can make the difference between a so-so cake and a great cake. Overmixing results in "tunnels" and can cause the cake to sink in the center; undermixing results in a crumbly texture.
Let your food processor save you time. The carrots can be shredded in a matter of seconds when you use this kitchen tool.