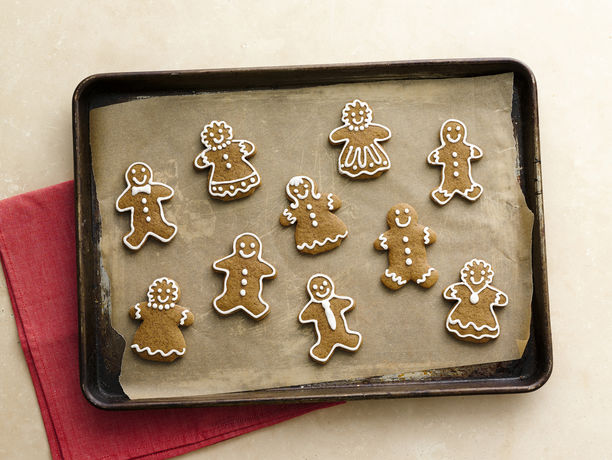 GINGERBREAD CUTOUTS (COOKIE EXCHANGE QUANTITY)
2 hr 15 min Prep
4 hr 45 min Total
"Can we eat them yet?" is the first question you'll hear every time you bake these spicy gingerbread cookies.
---
Ingredient List
Cookies

1 cup packed brown sugar

1/3 cup shortening

1 1/2 cups dark molasses

2/3 cup cold water

7 cups Gold Medal™ all-purpose flour

2 teaspoons baking soda

2 teaspoons ground ginger

1 teaspoon ground allspice

1 teaspoon ground cinnamon

1 teaspoon ground cloves

1/2 teaspoon salt
Easy Creamy Frosting

4 cups powdered sugar

1 teaspoon vanilla

About 5 tablespoons half-and-half
Preparation
In large bowl, stir together brown sugar, shortening, molasses and water. Stir in remaining cookie ingredients. Cover and refrigerate at least 2 hours.
Heat oven to 350°F. Lightly grease cookie sheet. On floured surface, roll dough 1/8 inch thick. Cut with floured gingerbread cutter or other favorite shaped cutter. Place about 2 inches apart on cookie sheet.
Bake 10 to 12 minutes or until no indentation remains when touched (for a softer, chewier cookie, bake 8 to 10 minutes). Remove from cookie sheet to wire rack. Cool completely, about 30 minutes.
In large bowl, stir together all frosting ingredients until smooth and spreadable. Decorate cookies with frosting.
Tips
Using a tub of Betty Crocker® ready-to-spread frosting instead of making the frosting can save you a few precious moments during the busy holiday season.
Store unbaked cookie dough tightly covered in the refrigerator for up to 48 hours.