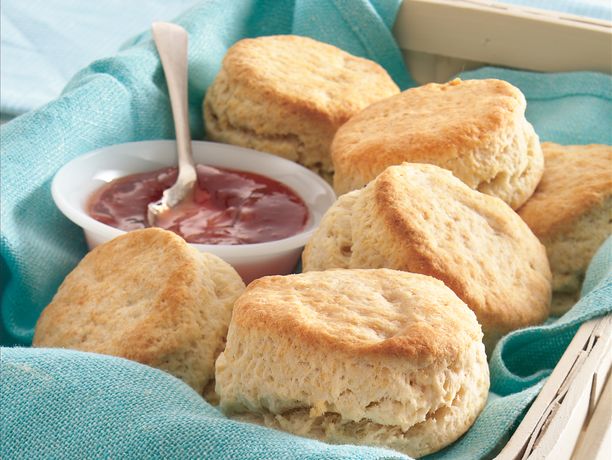 GOLD MEDAL™ CLASSIC BISCUITS
Piping hot biscuits! Enjoy these melt-in-your-mouth, easy-to-make classics.
---
Ingredient List
2 cups Gold Medal™ all-purpose flour

1 tablespoon sugar

3 teaspoons baking powder

1 teaspoon salt

1/2 cup shortening, butter or margarine

3/4 cup milk
Preparation
Heat the oven to 450°F. In a medium bowl, stir the flour, sugar, baking powder and salt until mixed. Cut in the shortening using a pastry blender or fork, until mixture looks like fine crumbs. Stir in the milk until mixture forms a soft dough and leaves the side of the bowl (dough will be soft and sticky).
Lightly sprinkle flour over a cutting board or countertop. Place dough on floured surface; gently roll in the flour to coat. To knead dough, fold dough toward you. With the heels of your hands, lightly push dough away from you with a short rocking motion. Move dough a quarter turn and repeat 10 times. Dough will feel springy and smooth.
On the floured surface, flatten dough evenly, using hands or a rolling pin, until dough is 1/2 inch thick.
Before cutting each biscuit, dip a 2 1/2-inch round cutter into flour to lightly coat it so it will cut cleanly through the dough without sticking. To cut, push the cutter straight down through the dough without twisting or turning. Cut the biscuits as close together as possible. On an ungreased cookie sheet, place biscuits about 1 inch apart for biscuits with crusty sides, or place with sides touching for biscuits with soft sides.
Bake 10 to 12 minutes or until golden brown. Immediately remove from cookie sheet. Serve warm.
Tips
Spray the cookie sheet with cooking spray. Increase milk to 1 cup. Drop dough by 12 spoonfuls, about 2 inches apart, onto the cookie sheet.
To cut biscuits, push a round cutter dipped in flour straight down in the dough. Remove excess dough around biscuits. Using a turner, move each biscuit to a cookie sheet. To cut remaining biscuits, gather the excess dough together and gently flatten dough until 1/2 inch thick. Use as little additional four on the surface as possible to prevent tough dry biscuits.