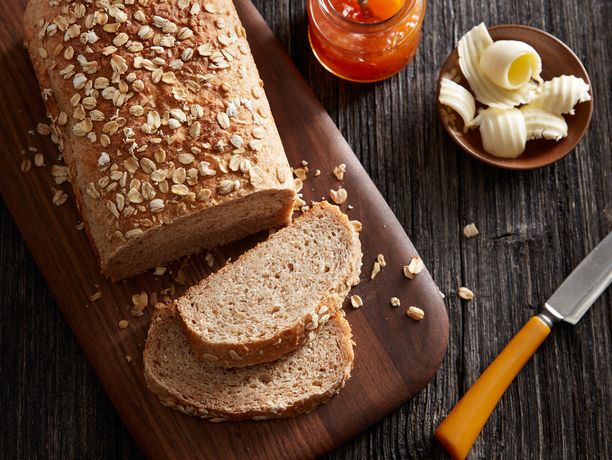 MULTIGRAIN LOAVES
1 hr 20 min Prep
4 hr 10 min Total
This multigrain bread is made more flavorful with one special ingredient – hot cereal!
---
Ingredient List
2 1/2 cups water

1 cup multigrain hot cereal

1/4 cup honey

1 package (2 1/4 teaspoons) fast-acting dry yeast

3 to 4 cups Gold Medal™ all-purpose flour

1 1/2 cups Gold Medal™ whole wheat flour

1 tablespoon salt

4 tablespoons unsalted butter, melted

1/2 cup old-fashioned oats
Preparation
In 1-quart saucepan, heat water to boiling. Remove from heat; stir in cereal. Set aside 30 to 45 minutes, stirring occasionally, until cooled to 105°F to 115°F.
In large bowl, stir cooled cereal mixture, honey and yeast. Stir in 3 cups of the all-purpose flour, the whole wheat flour, salt and melted butter until soft dough forms. Transfer to lightly floured surface, and knead by hand 10 minutes, adding just enough remaining all-purpose flour as needed, until dough is smooth, soft and elastic. Lightly spray clean large bowl with cooking spray. Shape dough into ball; transfer to bowl, and cover with plastic wrap. Let rise at room temperature about 1 hour or until doubled.
Meanwhile, spray 2 (9x5-inch) loaf pans with cooking spray.
Punch down dough, and divide in half. On lightly floured surface, roll one piece into 9x6-inch rectangle. Roll up tightly from shorter end into loaf; pinch seam with fingers to seal. Lightly spray loaf with cooking spray. Sprinkle 1/4 cup of the oats on work surface; roll loaf in oats. Transfer to loaf pan, seam side-down. Repeat with other dough piece, spraying with cooking spray and rolling in remaining 1/4 cup oats. Cover loaves with plastic wrap, and let rise at room temperature about 1 hour or until nearly doubled.
Heat oven to 375°F. Bake loaves 35 to 40 minutes or until golden brown. Cool in pans 10 minutes, then transfer loaves to cooling rack to cool completely.
Tips
Multigrain hot cereal is a blended whole-grain cereal mix that can be found near the oatmeal at your grocer.
To make a free-form version of this loaf, divide dough in half, then roughly shape both pieces into rounds. Place rounds 3 inches apart on parchment paper-lined cookie sheet; spray lightly with cooking spray, and sprinkle oats on top. Proceed with recipe as directed, but just before baking, use sharp serrated knife to slash 1/4-inch deep crisscross on top of each loaf.