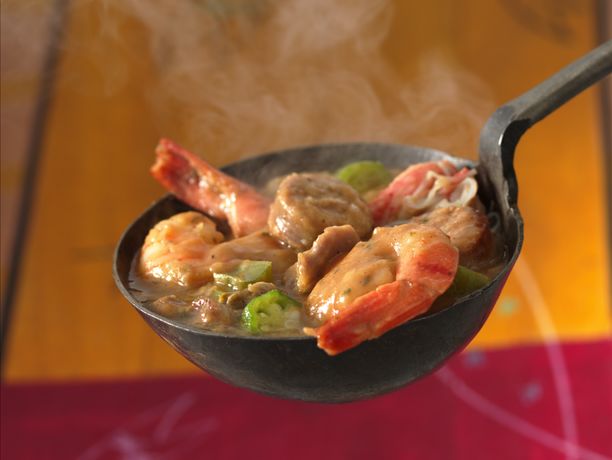 NEW ORLEANS "BEST" GUMBO
60 min Prep
3 hr 10 min Total
From Betty's Soul Food Collection... Soul food takes on a spicy accent in gumbo packed with flavor, spice and plenty of shrimp and oysters. This crowd-pleasing dish might feature a long ingredient list, but the preparation itself is relatively simple. Grab a knife and get to work—you won't regret it for a minute.
---
Ingredient List
6 cups water

1 package (1 pound) chicken gizzards, chopped

2 tablespoons seasoned salt

2 teaspoons parsley flakes

1 tablespoon garlic powder

1 tablespoon onion powder

1 teaspoon dried thyme leaves

1 teaspoon black pepper

1 teaspoon paprika

Dash of ground red pepper (cayenne)

1 large green bell pepper, chopped (1 1/2 cups)

1 large onion, chopped (1 cup)

5 cloves garlic, finely chopped

2 pounds uncooked turkey or beef sausage links, cut into 1-inch slices

1/2 cup vegetable oil

1 cup Gold Medal™ all-purpose flour

4 cups hot water

1 bag (1 pound) frozen chopped okra

1 package (6 ounces) frozen ready-to-serve crabmeat, thawed and drained

2 pounds fresh uncooked shrimp, peeled and deveined

1 can (8 ounces) regular or smoked oysters, drained

Hot cooked rice, if desired
Preparation
In 8-quart pot, heat 6 cups water to boiling. Add gizzards, seasoned salt, parsley, garlic powder, onion powder, thyme, black pepper, paprika, red pepper, bell pepper, onion and garlic. Heat to boiling; reduce heat. Simmer uncovered 1 hour, stirring occasionally. Stir in sausage. Cover and simmer 1 hour, stirring occasionally.
Meanwhile, in heavy 2-quart saucepan, heat oil over high heat. Stir in flour; reduce heat to medium. Cook 15 to 20 minutes, stirring constantly, until mixture is dark brown; remove from heat.
Stir flour mixture into gizzard mixture until blended. Stir in 4 cups hot water, 1 cup at a time, stirring constantly. Stir in okra, crabmeat, shrimp and oysters. Heat to boiling; reduce heat to low. Simmer uncovered 5 to 10 minutes or until shrimp are pink and firm. Serve over rice.
Tips
Gumbo is the African name for "okra." One of the three important ingredients (along with onions and bell peppers) in gumbo, okra is used to thicken and flavor many southern dishes.
Wishing you could be in the beautiful, historic city of New Orleans during the biggest celebration of the year?

If you can't be there for the parades and parties, the second best thing is to bring Fat Tuesday to your house! Here are some tips for creating your own awesome Mardi Gras—food, fabulous decorations, cocktails and more!

PARTY DECOR

Just because you're not partying it up in New Orleans, doesn't mean you have to miss out on the fun. Check out this inspiration board that has some of my favorite party décor and supplies you can use for your own Mardi Gras!

Green lantern
Purple lantern
Invitation
Bucket of beads
Gold mask
Purple tea light
Green tea light
Wine glasses
Flatware
Plate

FESTIVE FOOD

Of course, it's never a party without food—remember you're bringing New Orleans to your house, so follow some of these easy and delicious Mardi Gras recipes:

Appetizer

Cajun Sweet Potato Fries

Dinner

Cajun Catfish
New Orleans Best Gumbo
Slow Cooker Cajun Beef Stew

Desserts

You can't throw a Mardi Gras party without the traditional King Cake! Don't forget to hide a coin (it's really an edible surprise!); the lucky recipient is said to have good luck in the coming year and might have to host the next Mardi Gras party! Also try Lemon Mardi Gras Squares.

Cocktails

The Hurricane Cocktail is a signature New Orleans cocktail. It's served at one of the most popular bars in New Orleans' French Quarter called Pat O'Brien's and is a must at any Mardi Gras party! You can also check out nybarfly's Unique Cocktails for Mardi Gras for more great ideas.

INVITATIONS

Paperless Post is great for sending out invitations and they have a beautiful selection of Mardi Gras invitations this year! If you want to take even more stress off your party planning, make it a potluck and send each guest a recipe to bring to the party.

Throwing a Mardi Gras party has never been easier. Now go grab some beads and get the party started!