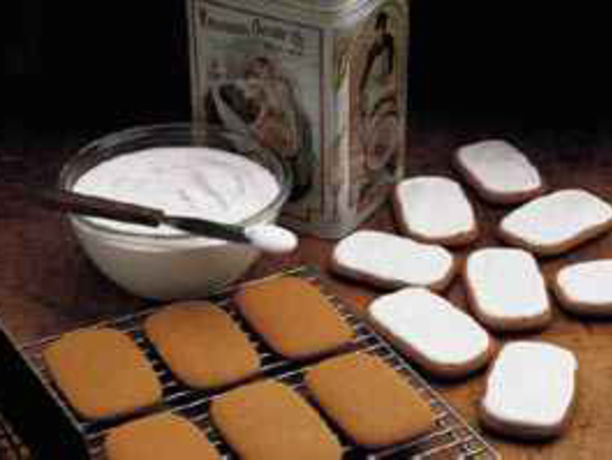 OLD-FASHIONED MOLASSES COOKIES
30 min Prep
6 hr 10 min Total
These frosted spice gems are a perfect pick-me-up after a hard day at school or work.
---
Ingredient List
Cookies

1 1/2 cups granulated sugar

1 cup shortening

1/2 cup molasses

2 eggs

3 teaspoons baking soda

1/2 cup water

5 1/2 cups Gold Medal™ all-purpose flour

1 1/2 teaspoons ground cinnamon

1 teaspoon ground ginger

1 teaspoon ground cloves

1 teaspoon salt
Frosting

1 envelope plus 2 teaspoons unflavored gelatin

1 cup cold water

1 cup granulated sugar

2 1/4 cups powdered sugar

1 1/2 teaspoons vanilla

1 teaspoon baking powder

1/8 teaspoon salt
Preparation
In large bowl, mix 1 1/2 cups granulated sugar, the shortening, molasses and eggs until well blended. In small bowl, dissolve baking soda in water; stir into molasses mixture. Stir in remaining cookie ingredients until well blended. Cover and refrigerate at least 2 hours.
Heat oven to 375°F. Lightly grease cookie sheet. On floured surface, roll dough 1/4 inch thick. Cut with floured 2 3/4-inch round cutter (or cut with clean food can with both ends removed, such as rectangular-shaped pork luncheon meat can). Place about 2 inches apart on cookie sheet.
Bake 8 to 10 minutes or until light brown. Remove from cookie sheet to cooling rack. Cool completely, about 30 minutes.
In 2-quart saucepan, sprinkle gelatin on cold water to soften; stir in 1 cup granulated sugar. Heat to a rolling boil; reduce heat. Simmer uncovered 10 minutes. In large bowl, place powdered sugar and hot gelatin mixture. Beat with electric mixer on medium speed about 2 minutes or until foamy. Add vanilla, baking powder and salt; beat on high speed 12 to 15 minutes or until soft peaks form. Frost bottoms of cookies with frosting. Let stand until frosting is dry, 2 to 3 hours, before storing.
Tips
You decide how strong you want the molasses flavor of these cookies to be. Look for the lighter-colored mild-flavor molasses or the darker full-flavor molasses in the baking aisle of your grocery store.
Go ahead and use vanilla ready-to-spread frosting in place of the recipe listed here.