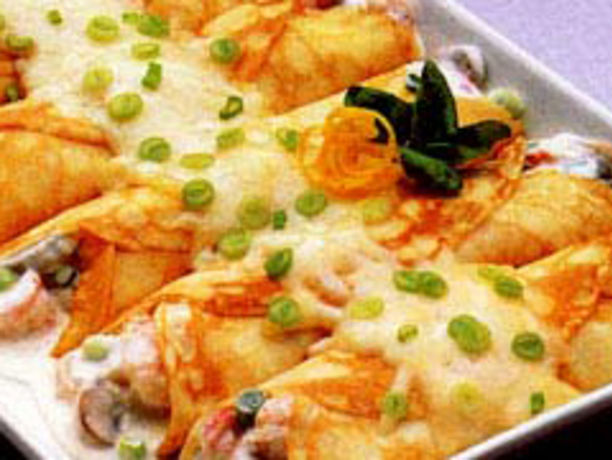 Europeans enjoy their meals over an extended time period. Do just that with these French-influenced crepes!
---
Ingredient List
Crepes

2/3 cup Gold Medal™ all-purpose flour

1 cup milk

1 tablespoon vegetable oil

1 teaspoon sugar

1/4 teaspoon baking powder

1/4 teaspoon salt

1 egg
Filling

2 tablespoons butter or margarine

1/4 cup chopped fresh mushrooms

4 medium green onions, chopped (1/4 cup)

2/3 cup small cooked shrimp

1 package (6 oz) frozen cooked crabmeat, thawed, drained

1/2 cup half-and-half

2 packages (3 oz each) cream cheese, cubed

1 cup shredded Swiss cheese (4 oz)
Preparation
In medium bowl, beat all crepe ingredients with wire whisk or hand beater until smooth. For each crepe, lightly butter 7- or 8-inch skillet; heat over medium heat until bubbly. Pour slightly less than 1/4 cup batter into skillet; rotate skillet until batter covers bottom. Cook until light brown; turn and cook other side until light brown. Stack crepes, placing waxed paper between each. Keep crepes covered to prevent them from drying out.
In 2-quart saucepan, melt butter over medium heat. Cook mushrooms and 2 tablespoons of the onions in butter, stirring occasionally, until onions are tender. Stir in shrimp, crabmeat, half-and-half and cream cheese. Cook over medium heat, stirring constantly, until cheese is melted.
Spoon about 1/4 cup seafood mixture down center of each crepe; roll up. Place in 11x7-inch (2-quart) glass baking dish. Sprinkle with Swiss cheese.
Microwave uncovered on High 4 to 6 minutes or until cheese is melted and crepes are heated through. Sprinkle with remaining 2 tablespoons onions.
Tips
Freeze cooked crepes, layered between waxed paper, up to 3 months. Thaw uncovered at room temperature about 15 minutes or until soft.
Instead of microwaving the filled crepes, they can be baked at 350ºF about 15 minutes or until warm and bubbly.