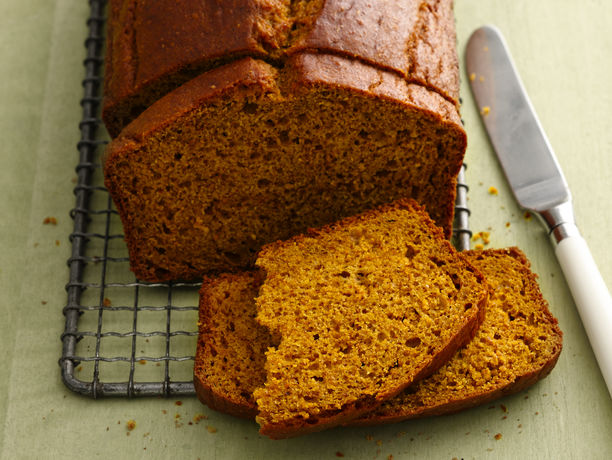 SKINNY PUMPKIN BREAD
20 min Prep
2 hr 40 min Total
50% less fat • 29% fewer calories • 50% more fiber than the original recipe. We've scooped out some of the fat from this popular bread and spooned in whole wheat flour.
---
Ingredient List
2 cups Gold Medal™ all-purpose flour

1 1/2 cups Gold Medal™ whole wheat flour

2 cups sugar

2 teaspoons baking soda

1 teaspoon baking powder

1 teaspoon salt

1 teaspoon ground cinnamon

1 teaspoon ground nutmeg

1 teaspoon ground allspice

1/2 teaspoon ground cloves

1 can (15 oz) pumpkin (not pumpkin pie mix)

1 cup fat-free (skim) milk

3/4 cup fat-free egg product

1/2 cup canola oil
Preparation
Heat oven to 350°F. Spray bottoms only of two 9x5-inch loaf pans with cooking spray. In large bowl, mix flours, sugar, baking soda, baking powder, salt, cinnamon, nutmeg, allspice and cloves until well blended.
In medium bowl, mix pumpkin, milk, egg product and oil until well blended. Stir into flour mixture until well blended. Spoon batter evenly into pans.
Bake 1 hour to 1 hour 10 minutes or until toothpick inserted in center comes out clean. Cool 10 minutes. Loosen sides of loaves from pans; remove from pans to cooling racks. Cool completely, about 1 hour.
Tips
Eat Better America Test Kitchens replaced ingredients with great-tasting alternatives to create better-for-you recipes that are just as yummy as the originals.
You can substitute 1/2 cup ground flaxseed for 1/2 cup of the whole wheat flour if desired.
Bread can be baked in three 8x4-inch loaf pans. Reduce baking time to 50 to 60 minutes or until toothpick inserted in center comes out clean.