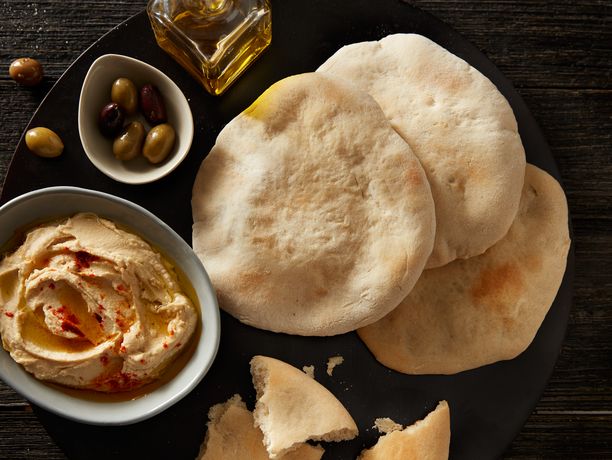 SOFT PITA BREADS
30 min Prep
2 hr 30 min Total
These pita bread pockets are soft, chewy and very easy to bake!
---
Ingredient List
3 to 4 cups Gold Medal™ all-purpose flour

1 tablespoon sugar

1 package (2 1/4 teaspoons) fast-acting dry yeast

1 1/2 teaspoons salt

1 1/4 cups warm water (105°F to 115°F)

2 tablespoons olive oil, plus more for bowl
Preparation
In large bowl, mix 3 cups of the flour, the sugar, yeast and salt with whisk. Using wooden spoon, stir in warm water and 2 tablespoons olive oil just until soft dough forms. Transfer dough to floured surface. Knead by hand 10 minutes, adding just enough remaining flour as needed until dough is smooth, soft and elastic.
Drizzle large clean bowl lightly with olive oil. Shape dough into ball, and place in oiled bowl. Cover tightly with plastic wrap, and let rise at room temperature 1 to 1 1/2 hours or until doubled.
Punch down dough; divide into 8 equal pieces. Shape each piece into ball. Cover with damp kitchen towel; let rest 20 minutes.
Meanwhile, place baking stone or upside-down baking sheet in center of oven; heat to 400°F.
Roll out each dough ball to 1/4-inch thick round. Transfer to baking stone, 3 to 4 at a time, and bake 4 to 5 minutes or until puffy and baked through (do not turn).
Tips
Swap all-purpose flour for Gold Medal™ bread flour, if desired.
Stuff pita bread with your favorite sandwich fillings, or cut into wedges to dip into hummus.